Thank you for your feedback…
You are way cool!
Your success is my success. And I very much appreciate your feedback. I will review your answers carefully and thanks again for your part in helping to improve the process, the work and the restults!
Know exactly what you need? Give me a call at 
877.597.7395
and we'll talk about next steps. You can also
get a quote
by filling out a quick Client Questionnaire form.
Not sure what you need or want to discuss your project in greater detail?
Heard about my work with StoryBrand?
Great marketing begins with a great message. With over 1 billion websites and countless other digital communications, you need a simple, proven and effective way to build awareness for your products and services. Brands who speak clearly get heard.
But when it comes to talking about their businesses, many people are so close to their products or services that they don't know where to start. And they stay stuck with confusing or inadequate messaging because they don't know how to fix it.
As a result, most businesses waste an enormous amount of money on marketing. Instead, the marketing is either ineffective, or so confusing, that it turns potential clients and customers away.
That's costly. That's frustrating. And it's holding you back from getting the results you need to grow your business.
Certified StoryBrand Guide
I know how hard it is to speak clearly about your complex products or services. And you shouldn't have to do this alone.
As a Certified StoryBrand Guide and Copywriter, I've been trained to help you uncover your company's most compelling (and clear) messages and put them to work in all your marketing. 
WHAT IS STORYBRAND?
StoryBrand is a 7-step marketing framework that changes the way you talk about your business to your customers.
By using the principles of story to create a clear brand message, you better connect with customers and create marketing that people pay attention to. And most importantly, it will help you grow your business.
This framework can be applied to your company's messaging, including websites, sales funnels, emails, landing pages, videos, lead generators – even taglines and elevator pitches.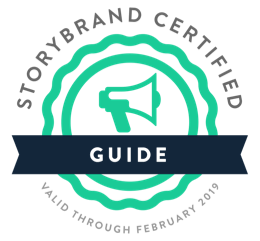 WHY STORY?
The human brain is drawn to CLARITY and away from confusion. If customers are confused about what you offer, they'll look past you for another company who can say it clearly.
Companies that clarify their messaging by using this story framework can dramatically improve their revenue by implementing it into their sales and marketing efforts.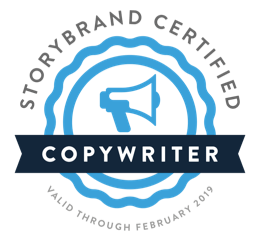 WORK WITH ME
We start by clarifying your message using the StoryBrand framework. 
I'll then help you apply or implement it across your marketing platforms.
ONLINE WORKSHOP
The Online StoryBrand Workshop is a 9-module video course that allows you to learn the framework at your own pace.
LIVE WORKSHOP
Travel to Nashville and learn the framework from the creator of the StoryBrand framework, Donald Miller in a 2-day, hands-on workshop.